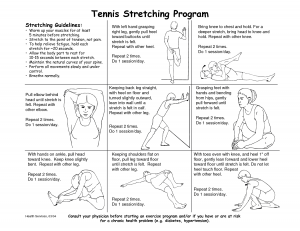 Stretching to me is like eating kale. I don't like it, but I do it because I know it's good for me. In tennis, stretching your upper body is very important, as typically players are plagued with shoulder and elbow injuries that can be alleviated or avoided with proper stretching.
Here are the stretching rules:
Before stretching you should always warm up. I suggest hitting the ball a bit, rotating your arms or jogging for at least five minutes, before stretching. Cold muscles will get pulled if you avoid this first step.
You should always hold your stretches for about 15 seconds per stretch before the start of an activity.
When you are done exercising, hold stretches for 30 seconds each.
This video best illustrates stretches to benefit your tennis game.
Jennifer Aquino is a running coach and fitness instructor. When she's not chasing balls on the court, she's running people through drills to help them improve their stamina. She teaches a Conditioning for Running Class on Wednesday nights through the City of San Mateo. She blogs at MothersontheRun.com.